AFL Evolution is a video game based on the AFL developed by Wicked Witch Software and published by Tru Blu Entertainment in 2017 for PlayStation 4, Xbox One and Microsoft Windows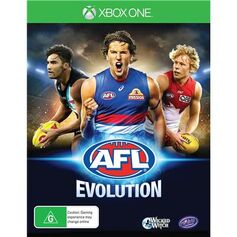 Some of the features Wicked Witch Software have revealed are that there is a 'be a stud' career mode for the first time ever in an AFL game. 'Be a stud'-type modes in games such as FIFA and NBA 2K, which allow the player to create a character and guide them through their career. You can start as an (under 18), work your way up, play (in) the VFL and eventually get drafted into an AFL team. the player will be able to ask for trades if they don't like the team their character is placed on, while also being able to start a career as an existing player or avoid the whole pre-AFL process entirely and jump straight into the elite competition. Also returning from AFL Live 2 is manager career mode, which is very similar to 'be a pro' mode in the way that you can start from the U18 TAC and work your way up, or you can jump straight into the AFL. Manager career mode also takes gamers beyond the field of play allowing them to manage the team via the drafting and trading of players, the salary cap, training, the tribunal and much more.
Ad blocker interference detected!
Wikia is a free-to-use site that makes money from advertising. We have a modified experience for viewers using ad blockers

Wikia is not accessible if you've made further modifications. Remove the custom ad blocker rule(s) and the page will load as expected.