This article is a bit messy!

This article needs to be cleaned up. Please help Xbox Wiki by checking spelling, grammar and editing other helpful things to make the article look better.

Aces of the Galaxy is a downloadable rail shooter, developed by Artech Studios and published by Sierra Online for Xbox Live Arcade.[1] The game was released on June 4, 2008 for 800 Microsoft Points.[1]
Reception
IGN awarded Aces an 8.4 of 10, stating, "Aces of the Galaxy is a solid, well-balanced space shooter."[2] Official Xbox Magazine said the game was "So mindlessly enjoyable that you'll soar right past [its] flaws."[3]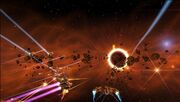 References
External links