Age of Conan: Hyborian Adventures is a fantasy-themed massively multiplayer online role-playing game (MMORPG) developed by the Norwegian computer video game developer company Funcom for PCs.[5] The game launched, (after repeated delaying throughout the early parts of the day) at around 2 p.m. (PST) or 11 a.m. (GMT) on May 17, 2008 in a limited way, being available to those who had pre-ordered the game and registered for early access. The full release of the game for North America was May 20, 2008 and for Europe May 23, 2008 for the PC version.[6] Although originally announced as being available for the Xbox 360, the console version is at least a year behind schedule.[4]
Hyborian Adventures is the first installment in the planned Age of Conan series. Age of Conan itself takes place within the continent of the Hyborian kingdoms, a year after the events depicted in Robert E. Howard's Conan novel, The Hour of the Dragon.[7] Hyborian Adventures' release celebrated the 76th anniversary of the Conan franchise.
To play Hyborian Adventures, users are charged a monthly subscription fee.
Characters
Characters in Age of Conan: Hyborian Adventures are created on a user account on a particular online server. Characters created on one server cannot be played on another. Players create characters which function as their virtual avatars in the online world of Hyboria. When creating a character in Age of Conan, the player may choose from three playable races. The character is one of four archetypes (in bold) and one of three class selections for each archetype.
Combat
Combat is based on five directions of attacking an opponent with a sword: hacking down against the head, slashing diagonally down from the left and right, and slashing diagonally up from the left or right. These directions are designed to be naturally strung together in combinations. Difficult combos cause additional damage and faster combat.[8]
Funcom has said that their "Real Combat" system, a combat system designed to offer more real-time options than traditional Dungeons & Dragons-inspired "turn-based" combat systems commonly used in RPGs, will be a prime attraction of Age of Conan: Hyborian Adventures. This Real Combat system is a first-person melee approach in which every enemy has three different areas that players can swing at. Combos can be performed by stringing together consecutive successful attacks in particular directions. Feedback from players have pointed out that the use of five directional "Combo-keys" along with the burgeoning amount of skills each character gets as they are developed, makes it difficult to pull off these maneuvers with ease to the player. This criticism has been brought up by not only reviewers, but fans of the game itself, citing "The game's combat system is more for evolved humans, who in the future will grow an additional two fingers to be able to reach the huge amount of key-bindings they'll have to make". [9] Player stats and item bonuses will also play a role in this system, however in most cases, attributes from item bonuses (Strength, Dexterity) make such a minimal visual improvement (1 Dexterity = 0.002 DPS) over the character's progress, that item bonuses are almost completely nugatory. The idea of "Real Combat" is to eliminate the dullness of typical MMO fighting, which often consists of an auto-attack feature. [10]
The "Real Combat" system is used in one-on-one weapon battle, as well as spell-casting, ranged combat and even mounted combat. In some situations, however, players will choose to band together and unite their skills to face other bands of players or AI controlled armies or uber-mobs; in essence, "formations", location based effects available for some classes. For example, a character standing in line with a Conqueror when he is running his formation will have a great deal of resistance to knockbacks. [9]
Players are able to take part in large scale siege operations. However, further development into siege battles is still being worked on by developers because of player concerns of its dragging slowness with more than twenty participants in a battle. Adventurers can cooperate with one another to build cities with walls, towers and catapults that can protect player-owned taverns and merchant facilities. The developers have previously stated that the world will respond appropriately to the rise of player cities with AI controlled enemies building their own cities, ensuring a renewing supply of city-vs.-city combat as players try to knock down enemy walls or defend their homes.[11]
The dance moves were made using motion capture on the dancer Hallgrim Hansegård, most known as a backingdancer for the winner song of the Eurovision Song Contest 2009: "Fairytale" by Alexander Rybak.[12]
Community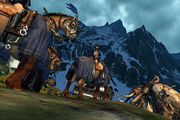 Due to the game being in rumored development since 2003, an online virtual community had steadily clustered around various fan websites regarding Age of Conan: Hyborian Adventures. By February 2005, this informal community was still going strong despite no true public announcement concerning the rumored game. Finally, Funcom and Conan Properties LLC jointly confirmed the in-development status of Age of Conan in an official press release on April 20, 2005. Shortly thereafter, a primitive game website debuted and thousands of Conan enthusiasts migrated from their fan sites to the new official forums hosted by Funcom. Many Anarchy Online fans also followed the development of the product due to the involvement of Funcom, who created the Anarchy Online PC series.
When Funcom released a community portal on January 24, 2006, much of the pre-launch community had gathered around the forums and IRC chat of the official Age of Conan website. There were informal events such as IRC chats with the developers and, in summer 2006, community contests.
Further a guild recruitment forum entitled Guild Hall was created in April 2006 for the pre-launch community and, within hours, forum members began organizing their player guilds.
As of January 13, 2009, The amount of active players has diminished so significantly that Funcom has cut its 49 servers down to 18 remaining via merges. There is currently one server of each type active for each region in which the game is available. [13]
Setting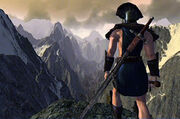 Age of Conan is set in a low fantasy, pseudo-historical ancient world called the Hyborian Age created by Robert E. Howard. The warlord Conan has seized the throne of Aquilonia, but ancient evils seek to overthrow him.
| | | |
| --- | --- | --- |
| " | The [Hyborian Age] is like a dark, decadent, twisted and corrupt version of Euro-Asian history. Mix a bit of the Roman Empire, Mongolian culture and Babylonian mysticism with '30s-era myths of undiscovered Africa...[14] | " |
The lead artist Terje Lundberg said that the look and feel of Hyboria was based on the interpretation of the stories written by Robert E. Howard. "When you read Howard's work you're immediately drawn into a gritty world of dark and ancient forces, and mighty and decadent civilizations. You feel the great weight of the ages and sense the very history in the crumbling mortar and the ruins. Therefore we've been mindful from the outset to create a world which is true to Howard's writing. There is majesty in Hyboria but it's of a monolithic, brutal and primitive kind - it certainly isn't "high fairie" where everything appears as though it was built only yesterday and is devoid of context."[15]
Lundberg said the game at launch will contain three countries, Cimmeria, a northern country with snow and highlands, Aquilonia, which contains "green hills, lush riverbeds, and the marvelous city of Tarantia", and Stygia, with mostly deserts and "some beautiful cities" — as well as the island of Tortage which "has a diverse geography ranging from jungle to harbors."[15]
Music and sound
Five principal individuals have worked on the music and audio for Age of Conan: Hyborian Adventures. The Audio Director is Morten Sørlie, who created the soundtrack for Anarchy Online - Shadowlands. Simon Poole (Lead Sound designer on "Dreamfall - The Longest Journey") took over as Audio Director in May 2007, and saw the project through to completion. The sound designers is Tord D. Nikolaisen and Fredrik Martol, and composer Knut Avenstroup Haugen wrote the musical score for the game.[16] To create a musical score for the Hyborian universe, composer Knut Avenstroup Haugen turned to many different sources: For the music of the different ethnic groups, Haugen studied traditional music from relevant parts of the world. For the overall sound of the Hyborian Age, Haugen studied ancient and medieval music as well as the romantic orchestra repertoir and film scores, while avoiding conventions that connect too closely to specific historical periods.[17] The female vocalist heard in the score is Norwegian singer Helene Bøksle.[2] Norwegian punk rock artists Turbonegro contributed three bonus songs to the soundtrack CD. One of them written specifically for the album.[18]
Knut Avenstroup Haugen won the IFMCA award for Best Original Score for a Video Game or Interactive Media for his score.[19]
Over 40 actors voiced the large cast of characters.[3]They were recorded at Side UK [4] in London, England UK, Side LA in California, USA and at Funcom in Norway.[5]
Technology
The game makes use of following technologies: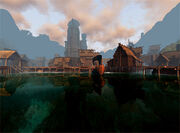 Cheetah 

Shader-oriented proprietary render engine re-written from scratch by Funcom featuring a phong per pixel lighting system. This engine allows for improved graphics and ambience. This is coupled with a trapezoidal shadow system, an in-house system developed by Funcom that allows all objects to cast shadows onto everything.[20]
Perlin noise-based cloud generating system 

Five-layered procedural system that enables multiple layers of dynamic clouds; thus, visually realistic cloud behavior.[20]
SpeedTree 

Programming package that aims to produce high-quality virtual foliage in real time.[21]
DirectX 10 

A major update of DirectX API. Although advertised on the boxes, the game did not include support for DirectX 10 at the time of launch. A preview of the DirectX 10 features was given at the Games Convention in Leipzig in August 2008, but no release date is known yet, [22] it was subsequently implemented for internal testing.[23] As of late March 2009, a test DX10 client was released for all live servers.[24]
Umbra 

Umbra is GPU accelerated occlusion culling software developed by Umbra Software Ltd. Umbra's aim is to speed up the rendering of large worlds with a lot of overdraw.
Release
Funcom delayed Age of Conan: Hyborian Adventures on January 21, 2008[25] and again on March 24, 2008[26]. The delays were widely reported by online game magazines such as IGN. [27]. Once released, however, the game had sold over 500,000 copies worldwide as of June,1, 2008.[28] Six days later one million copies had been shipped in total. [29]
Between March 2005 and January 2006, Funcom periodically revealed concept art and screenshots from Age of Conan. The Art Director for the Conan project is Didrik Tollefsen, known for such classics as The Longest Journey and Anarchy Online - Shadowlands, which won the Outstanding Achievement in Art Direction award at RPGVault in 2003.
On January 24, 2006, Funcom unveiled the community portal for Age of Conan: Hyborian Adventures. By this time, much of the pre-launch community had gathered around the forums and IRC chat of the official Age of Conan website. There were informal events such as IRC chats with the developers and, in summer 2006, community contests.
In April 2006, Funcom created a forum for guild recruitment entitled Guild Hall for its pre-launch community and, within hours, forum members began organizing their player guilds.
In January 2007, several important updates were announced regarding class merges and the expected launch window for the game. Also on January 12, Funcom announced the original twenty-three classes had been merged down to fourteen classes to avoid the lack of diversity between them.[30]
On February 7, 2008, Funcom and Eidos announced that over 500,000 people had signed up for the Beta Testing of Age of Conan.[31]
On May 19, 2008, GameZone.com presents a series of original fictional stories by Michael Lafferty stemming from the massively multiplayer online world of Age of Conan - Hyborian Adventures. The stories are written with the permission and cooperation of Funcom. The tales deal with the world, the characters and the lore involved in Hyboria. [32]
In May of 2009, Full retail copies of The Age of Conan were given away with Issues of ONLINE GAMER (Derwent and Howard publishing) the magazine retailed for $14.95 au and included 30 days free.
Critical reception
The game received "generally favorable reviews" according to Metacritic.[41] Since release, Funcom has made improvements to performance and changes and additions to the game which were not ready in time for launch, as well as in response to feedback from players. Additions have included new adventuring zones, PvP systems, and revamping of existing dungeons.
Seth Schiesel, writing for the New York Times, felt that the development of the game would have benefited from a few extra months of production.[43]
Resignation
In September 2008, Gaute Godager, the Producer and Game Director resigned from his role in Age of Conan and from Funcom, a company he had been involved in for over 16 years[44]. In his press release, he revealed that he was not happy with elements in the game's development since release. He was succeeded by Craig Morrison, previously live Game Director of Anarchy Online, and community manager for various Funcom community forums.
Expansion pack
An expansion pack is in production, planned for release in the later part of 2009. Although no information has been released, some concept art has been shown [45]
Cultural references
The game was referred to in the third episode "The Barbarian Sublimation" of the second season of television show "The Big Bang Theory". In this episode, Penny sees Sheldon playing Age of Conan: Hyborian Adventures, in which he calls himself "Sheldor the Conqueror". Penny then starts playing the game, and gets addicted to it. At the end of the episode, she realizes her addiction and throws her laptop in disgust at how she's been acting. Various in-game references are used throughout the episode.
See also
References
External links