This article is a bit messy!

This article needs to be cleaned up. Please help Xbox Wiki by checking spelling, grammar and editing other helpful things to make the article look better.
Outdated page

This article is outdated you can help Xbox Wiki by updating content and making things more recent.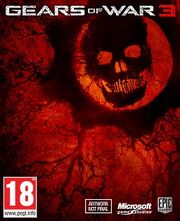 Gears of War 3 is a 3rd person shooter that will be released on April ,2011 in North America, and everywhere else April 8,2011.
this will be an Xbox 360 exclusive. it is third edition of Gears of War
THIS PAGE WILL BE UPDATED WHEN NEW INFO AVALIBLE
http://gearsofwar.xbox.com/AgeGate.htm
here is the official website.
Ad blocker interference detected!
Wikia is a free-to-use site that makes money from advertising. We have a modified experience for viewers using ad blockers

Wikia is not accessible if you've made further modifications. Remove the custom ad blocker rule(s) and the page will load as expected.