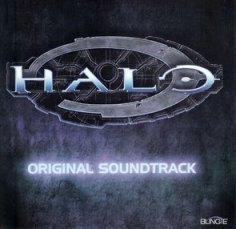 The Halo Original Soundtrack is the official soundtrack for the Xbox game Halo: Combat Evolved, composed and produced by Martin O'Donnell and Michael Salvatori for Bungie. It was released on June 11, 2002, and most of the music from Halo: Combat Evolved is present on the CD, although some songs have been remixed by O'Donnell in medley form for "more enjoyable" listening. The first piece O'Donnell wrote, titled "Halo", became the basis for the Halo series' "signature sound" that has been heard in other games within the main trilogy.
Background
Track listing
All music was written and composed by Martin O'Donnell and Michael Salvatori:
"Opening Suite" - 3:33
"Truth and Reconciliation Suite" - 8:25
"Brothers In Arms" - 1:29
"Enough Dead Heroes" - 3:00
"Perilous Journey" - 2:26
"A Walk in the Woods" - 1:52
"Ambient Wonder" - 1:56
"The Gun Pointed At the Head of the Universe" - 2:26
"Trace Amounts" - 1:51
"Under Cover of Night - 3:41
" What Once Was Lost" - 1:40
"Lament for Pvt. Jenkins" - 1:14
"Devils... Monsters..." - 1:30
"Covenant Dance" - 1:57
"Alien Corridors" - 1:48
"Rock Anthem for Saving the World" - 1:18
"The Maw" - 1:06
"Drumrun" - 1:01
"On a Pale Horse" - 1:35
"Perchance to Dream" - 1:00
"Library Suite" - 6:47
"The Long Run" - 2:11
"Suite Autumn" - 4:22
"Shadows" - 0:59
"Dust and Echoes" - 2:49
"Halo" - 4:22
Reception
External links
Ad blocker interference detected!
Wikia is a free-to-use site that makes money from advertising. We have a modified experience for viewers using ad blockers

Wikia is not accessible if you've made further modifications. Remove the custom ad blocker rule(s) and the page will load as expected.