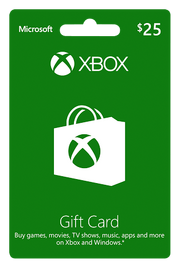 Note: Xbox Gift Cards have replaced Microsoft Points.
As of 22nd August 2013. Microsoft Points were retired and replaced by local currencies. All purchases on Xbox Game Store will require you to have credit on your Microsoft account, or you will need to purchase it with a debit/credit card.
Xbox Gift Cards are used so you can buy someone credit on their account without them needing there bank details. This can make it really easy for people to give the prepaid cards as gifts.
Microsoft decided to use real local currencies instead of Microsoft Points to simplify things and make it easier for people to make purchases.
If you purchase a gift card or redeem one, and buy something on the Marketplace but do not spend all the money, the remaining currency will be saved on your account to go towards your next purchase.
Microsoft Points prepaid cards are still redeemable on Xbox consoles and xbox.com until further notice. All Microsoft Points on account will be converted into your local currency.
See also