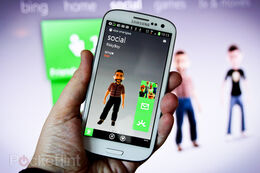 Xbox SmartGlass (Now known as the "Xbox app") is a companion application thats is avaliable on iOS devices, Android devices, Windows 8, Windows 10, and Windows Phone/Tablets. SmartGlass was released on 26th October 2012.
Features
Remote Control, you can pause, rewind and stop movies and videos straight from your device.
Internet Explorer, you can control IE from the SmartGlass application on any device.
Communicate, you can use your device to send messages, change your bio, location and name. You can also view friends profiles, add people as friends, see whos online, and set beacons.
Dress Up, with your device you can customise your avatar completly.
More, you can view achievements, compare games, and remotely start a game.
Next Gen, the application can be used as a second screen to enhance gameplay.
See Also
Ad blocker interference detected!
Wikia is a free-to-use site that makes money from advertising. We have a modified experience for viewers using ad blockers

Wikia is not accessible if you've made further modifications. Remove the custom ad blocker rule(s) and the page will load as expected.